Gallery - Bratislava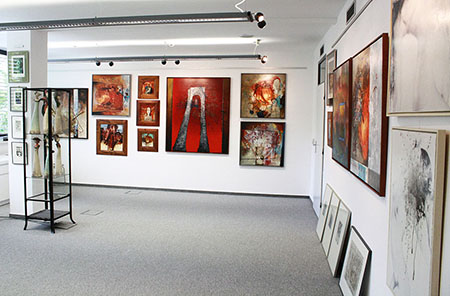 Art gallery in Bratislava
Gallery Gwerk
Tomášikova 19, 821 02 Bratislava
Slovakia
Opening hours:
THURSDAY 14:00 – 18:00
+ every day upon contact (email or phone)
During July, the gallery will only be open by prior arrangement. If you are interested, please contact us by phone or e-mail, we will be happy to adapt to you. We wish you a beautiful summer!
There is a park place for you. Ring at the ramp and say that you go to the gallery. Or if the ramp is up, just go in and park your car :)
We are at the 1st floor.
Contact:
info@gallerygwerk.sk
+421 907 281 123
Billing information:
PRO ARTE n.o.,
Tomášikova 21, 821 02 Bratislava
Company registration number: 527 499 67
VAT identification: 2121 131 331
Bank:
Slovenská sporiteľňa
IBAN: SK89 0900 0000 0051 6519 0589
BIC SWIFT: GIBASKBX
Contact us